Happy 2021! As we continue to expand our efforts in Canada, we are happy to announce eTailPet's partnership with the Pet Industry Joint Advisory Council of Canada (PIJAC). 
We have been working with some incredible partners to bring eTailPet into Canada including Pan Pacific Pet, Manchester Pet Supplies and Royal Canin. In building our relationship with them they knew we needed to meet their friends at PIJAC.
PIJAC provides leadership and communication between all sectors of the pet industry through resources, training, and advocacy to promote the highest level of pet care. They are committed to advancing the pet industry by providing resources and best practices for Canadian pet businesses.
We quickly learned that our mission and values aligned, and a partnership was formed. PIJAC had been looking for a solution to address the economic hardship pet retailers were facing during the pandemic. They were searching for a way to ease member struggles by finding ways to help them stay competitive and navigate ongoing lockdown restrictions, and eTailPet was the answer they were looking for.
eTailPet ticked all the boxes PIJAC needed; helping stores diversify (brick and mortar + digital destinations), maintaining a loyal customer base (pet parents want to shop local), adding new customers and introducing a way to ensure business continuity during lockdowns.
eTailPet offers independent pet retailers the opportunity to keep their doors open and offer pet parents a safe and convenient way to locally shop for their furry family members.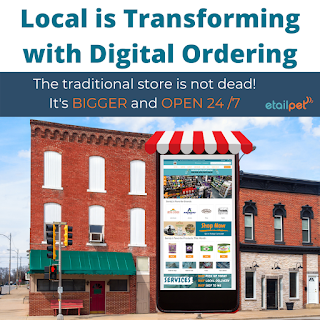 "Adding e-commerce to a traditional pet retail operation makes our members more competitive.  They become the local warehouse for their clients rather than massive online pet retailers.", says Christine Carrière, PIJAC Canada, CEO, "This also gives them a new way to serve their client while continuing to provide community pet care service, even in times of restriction. This is something online giants cannot do."
eTailPet has found much success in the US market helping independent pet stores create digital storefronts allowing them to compete with Chewy and Amazon. They offer a robust platform with a product catalog of over 90k SKU's ready for retailers to get online quickly.
"Chewy and Amazon have taken considerable market share from indy pet retailers in the US, our partnership with PIJAC will work to combat this from spreading into Canada as well," says Berenice Giannini, eTailPet, Founder and CEO, "We want to help support Canadian small business owners by giving them the tools they need to compete in the digital marketplace. We understand many pet retailers have been in operation for generations and we want to see them continue for generations to come, by keeping pet dollars local."
PIJAC and eTailPet have come together to offer Canadian retailers a special program with exclusive rates to their members. The program is now available in English. Thanks to the generosity of Royal Canin the French version is scheduled to launch in February, allowing pet parents the ability to toggle between English and French as they shop digitally. 
PIJAC members can get more information about the program at sales@etailpet.com. Canadian retailers that would like details on how to become a PIJAC member to take advantage of this program along with all of their member benefits can contact information@pijaccanada.com.